How to Maintain Laminate Floor
Vacuum or broom the laminate floor to keep it away from loose dirt and dust.
For heavier cleaning, use Ego laminate floor cleaner or a mixture of household vinegar and water (1-cup vinegar to 1-gallon warm water) or household ammonia and water (1/2 cup ammonia to 1-gallon warm water).
Protect the laminate flooring in high traffic areas and from excessive tracking of outside dirt and soil with mats at all entrances. Use door mats and throw rugs outside room entrances and in front of kitchen sink and refrigerator to help keep dirt and grit off your floor, and to prevent damage and excessive wear.
Wipe up spills like tea, coffee immediately.
The worst stains can be removed with acetone or denatured alcohol on a soft cloth without bleaching or damaging the floor. In a pinch, nail polish remover containing acetone is a handy substitute.
Protective felt pads on chair and furniture legs are recommended to further protect the floor. Replace plastic casters on chairs with rubber wheels and lift rather than slide heavy objects across the floor.
Don't allow water to stand on your floor for any length of time.
Do not use soap or detergent-based cleaners, wax-based products or any type of polish on laminate floors, bleach, oil, soaps, as they leave a dull, filmy residue.
Do not wax or refinish your laminate floor.
Do not scrape the floor to remove the things stuck to your floor, such as gum or candle wax. This situation is best handled by letting the spot harden completely, then scraping it gently off the floor with a plastic scraper. Residue can then be removed using a clean rag damped with a little Ego Laminate flooring cleaner.
How to Maintain Engineered Floor
Support furniture and heavy appliances with wide-bearing, on-staining glides or casters.
Place area rugs in high traffic concentrated area to make long term maintenance easier and less expensive.
Move appliances / furniture by sliding them slowly over the floor on a clean piece of carpet turned upside-down.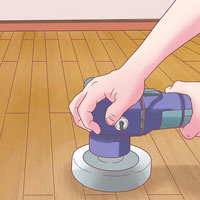 Do not wax the floor.
Do not use steel wool on the floor.
Do not use ammonia-based cleaners.
Avoid spiked-heel shoes, pebbles and other abrasives.
Do not use soap or detergents on the floor and never pour water directly on to the floor.
Do not use extremely wet mop to clean the floor .
How to Maintain Vinyl Floor
Remove dirt and other foreign materials thoroughly with vacuum or broom.
Stubborn areas should be allowed to soak for 5~10 minutes then have the excess moisture mopped off of the floor.
Use only buffing and cleaning pads recommended by Ego Floor. Using strong abrasive pad that are too strong will result in excessive scratching and reduce the life of the floor.
Attempt to protect the floor from direct sunlight.
Use proper floor protectors for portable furniture like wheel chairs, carts, etc., use large diameter wheels.
Damp mop the floor, being careful not to flood the floor with excess water .
Damp mop with a rinse pad. Soak the rinse residues completely and wait until it dries.
Use WALK OFF MATS on the floor to protect from soil or dirt. Controlling grit and soil is absolutely crucial to prolonging the attractive appearance of your Ego – LG HAUSYS floor
When moving furniture or heavy objects, protect the floor by laying plywood.
Normal soap or dishwasher detergent can cause permanent damage and slippery floors. Use only proper cleaners for resilient flooring.